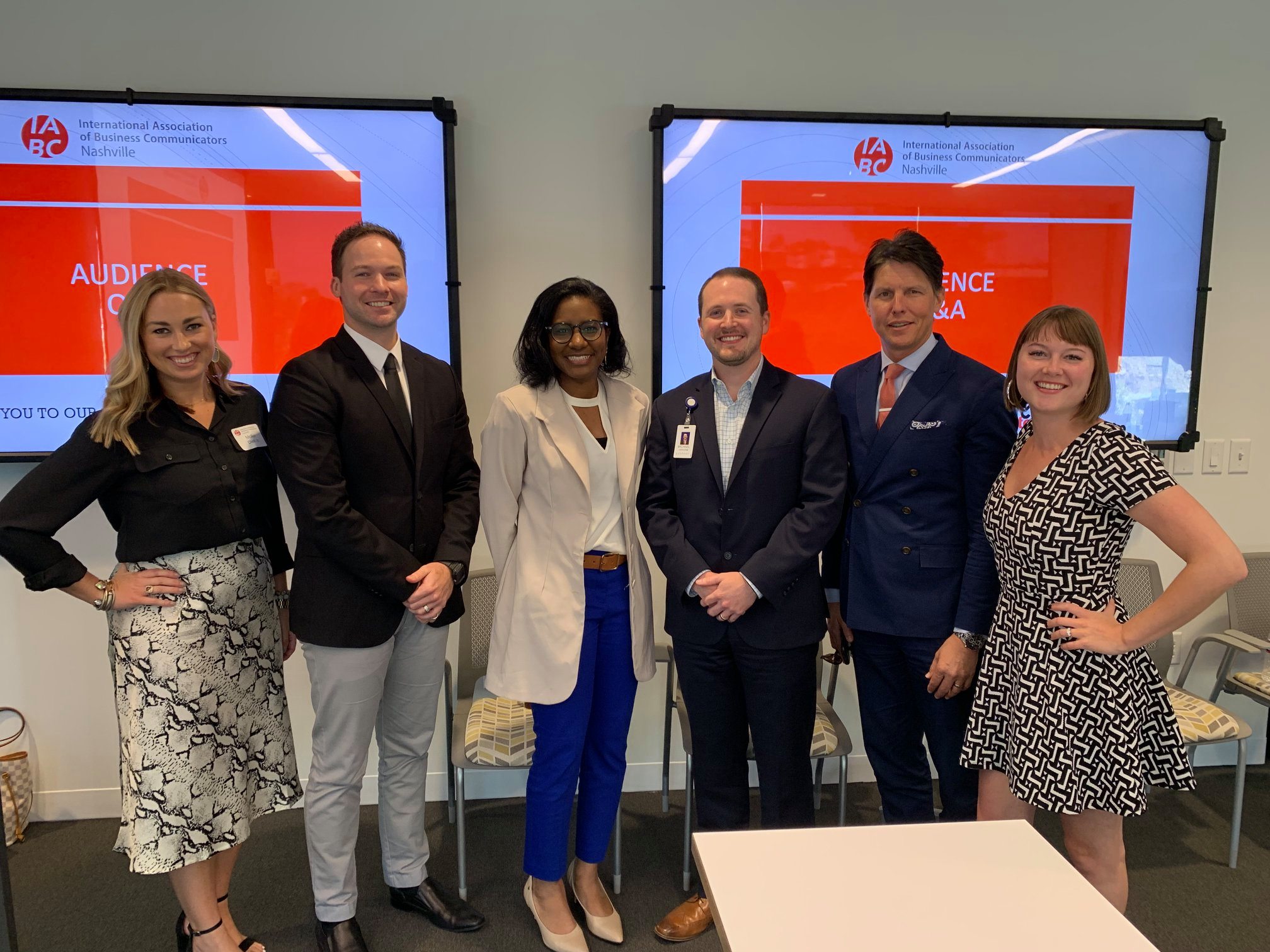 GET INVOLVED
One of the best ways to enhance your professional skills as a communicator and develop meaningful relationships with other business and community leaders is by becoming an active volunteer.
IABC Nashville offers a number of ways to engage with chapter leadership, members, and communicators throughout the region. A few of the areas of focus include:
​
Board Positions: IABC Nashville is managed by a diverse volunteer board of professional communicators. Board positions run from January – December of each calendar year, with board members expected to keep current on their membership dues and participate in monthly board meetings. Board positions include:

President
President-Elect/Executive Vice President
Past-President/Nominating Chair
Vice President of Finance/Treasurer
Secretary
Vice President of Membership
Vice President of Professional Development
Vice President of Communications
Vice President of Social Media
(3) Vice President At-Large

Are you interested in applying for a board position or nominating someone? Email us today. Click here to learn more about each position.

Membership Outreach: Help us expand the mission of IABC by helping us support our membership endeavors. This includes:

Member recruitment
Event volunteer for professional development luncheons, networking mixers, and other chapter events.

Are you looking to sharpen your networking skills and get more involved with IABC Nashville? Email Bailey Hinsley, Vice President of Membership.

Awards Program: One of the best ways to get involved with IABC Nashville is to participate in its flagship Music City Gold Pen Awards program. Ways to get involved include:

Judging entries for other IABC chapters
Event support including logistics, setup, collateral, and event promotions
Sponsorship outreach

Professional Development: Are you looking for ways to share your thought-leadership with others? We are always looking for speakers and panelists to discuss current industry trends with our membership during our monthly professional development luncheons. Opportunities to get involved include:

Speakers
Panelists
Webinar Hosts

Please reach out to Jessica Hopson, VP of Professional Development, if you are interested in being a speaker. Please send over a synopsis of your topic with your email.

Chapter Communications: Content is key for any organization, but it is paramount for an organization like IABC Nashville that serves business communicators. We are always looking for volunteers to help support us with the following communications needs:

Social Media Outreach
Web Development
Graphic Design
Blog/Article Contributions

For interest in social media outreach, please reach out to Vice President of Social Media Tayhlor Blackwell. For all other communications interests, please reach out to Vice President of Communications Natalie Simpson.

Other Volunteer Opportunities: In addition to the opportunities listed above, we are always looking for volunteers to support us in the following:

Sponsorship Outreach
University Outreach and Mentorship (Belmont University, Middle Tennessee State University, and Western Kentucky University)

For more details email Bailey Hinsley, Vice President of Membership.