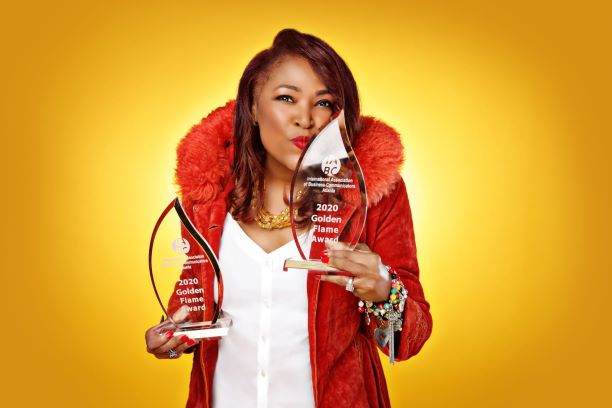 Genma Stringer Holmes of GSH Media and Consulting has earned a prestigious Excellence Flame Award in the IABC Atlanta 2020 Golden Flame communications recognition program. The Cerese D June and August Digital Cover Issues and Stories won in the Publication Category.
The IABC Atlanta Golden Flame awards program recognizes exceptional examples of advertising, marketing and communication programs as judged by an international panel of peer-professionals. This year, IABC Atlanta awarded thirty-two gold, four silver, sixteen bronze and three Best in Show awards for business communication excellence.
"This year has been a difficult one for the communications industry as it has for all other industries," said Eric Berrios, IABC Atlanta VP of Professional Recognition. "It's been a privilege to watch how communicators have adjusted to the challenges thrown at them in 2020. The winning entries represent the best of Atlanta communications this year. I am proud of these communicators, their exceptional work and our profession."
Entries are scored on their own merit, not judged against one another. The awards criteria are based on IABC's Global Seven-Point Scale of Excellence. Categories include internal communications, social media programs, websites, audio/visual, publications, writing, government relations, and marketing, advertising, and brand communications. A complete list of the IABC Atlanta 2020 Golden Flame award winners can be found at https://atlanta.iabc.com/2020-award-winners/.
About IABC Atlanta
IABC Atlanta is the premiere professional communications association that provides professional development, networking, and best practices for a broad range of communication professionals at all career levels. With membership across internal and external communications, as well as executive, marketing and PR sectors, the association provides unique networking events and learning opportunities for communication professionals to advance their careers and build meaningful connections within the Atlanta community. More information about the organization is available at www.atlanta.iabc.com.
About Genma Stringer Holmes and GSH Media
Genma Stringer Holmes is a recognized award-winning Serial Entrepreneur, Media Influencer, and Editor-in-Chief. She is IABC Nashville's 2020 Inaugural Hall of Fame Recipient. She has won several awards from the International Association of Business Communicators including the IABC Southern Region's Silver Quills, IABC Atlanta's Golden Flames, and IABC Nashville's Music City Gold Pens for projects as diverse as editorial work for print and digital publications, digital communication branding, and social media management and research. She is the owner of Holmes Pest Control, Executive Producer of Living Your Best Life Radio, and the Editor-in-Chief of GSH Media. Genma has a heart for non-profits and community engagement. She has served on IABC's boards and committees locally, regionally, and internationally.
About Cerese D
Quickly becoming one of the most sought-after jewelry brands nationwide. Cerese D releases new and exciting designs of jewelry every month. With a passion for color, texture and balance, the founder, Cerese Dolman, strives to provide new fashion-forward designs without compromise.
The deeply admired luxury jewelry brand continues to allure the world with its stylish artistic array of jewelry. Cerese D Jewelry is the new luxury brand that is authentic and unconventional. A style that expresses new forms of elegance, presenting itself as modern and different. The strong identity of the Cerese D Jewelry brand has evolved over the years without ever forgetting its roots.