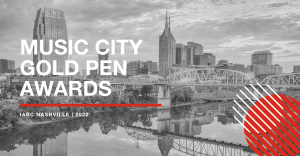 THE 2022 MUSIC CITY GOLD PEN AWARDS CALL FOR ENTRIES IS NOW OPEN.

IABC Nashville is on a quest to recognize Middle Tennessee professionals who exemplify excellence in strategic business communications, management skills, thought leadership, and creativity. Each year, the Music City Gold Pen Awards showcase top-notch work from area communicators—members and non-members alike—from various sectors.
Submitting an entry will help you develop your professional knowledge and skills and prepare for entry into the international Gold Quill Awards program. Judged by professionals in other IABC chapters, a Music City Gold Pen Award is one of the most prestigious awards a communicator, designer, marketing strategist, or student can earn.
KEY DATES AND INFORMATION

Monday, May 9: Call For Entries Open

Monday, June 6 (11:59 PM CDT): Early Deadline


IABC Members: $110 Per Entry*
Non-Members: $150 Per Entry
Nonprofits/Students: $25 Per Entry

FINAL DEADLINE: Monday, June 13 (11:59 PM CDT)


IABC Members: $125 Per Entry*
Non-Members: $165 Per Entry
Nonprofits/Students: $40 Per Entry

NEW: There is a discount of $35 for submitting multiple entries. This does not apply to student entries.

Mid/Late August: Winners Notified

Thursday, September 29: In-Person Awards Celebration

*Entries and payments received after the FINAL deadline will not be judged.

*To receive the IABC member rate, the entrant must be a current IABC member.


10 REASONS TO ENTER
THE 2022 MUSIC CITY GOLD PEN AWARDS

Demonstrate your skills in analytical thinking and creative implementation by entering an effective strategic communications plan according to IABC's global standards and criteria of excellence.
Earn credibility and a reputation as one among the best in the region.
Be recognized for your work by colleagues, your employer, and clients, with solid evidence that you're one of the best at what you do.
Fine-tune your skills with expert feedback from senior professionals.
Inspire your team and enhance their reputation, both internally and externally.
Build a business case for an increase in your communications budget.
Elevate the standard of professional communication in your organization.
Build a portfolio of work & a stronger resumė to open doors for new career advancements.
Show you can compete with the best.
Use the feedback from our local IABC chapter awards to enter an even stronger submission at regional and international levels.
---
CATEGORIES AND JUDGING CRITERIA

Distinguish your work in four divisions
| | | | |
| --- | --- | --- | --- |
| Division 1: Communication Management | Division 2: Communication Research | Division 3: Communication Training and Education | Division 4: Communication Skills |
Judges evaluate entries on a 7-point scale with zero being the lowest score and 7 being the highest. An entry is considered to be competent if it scores at least 4. Entries must receive 5.25 to receive a Merit award. Entries scoring 5.75 receive an Award of Excellence. The Music City Gold Pen evaluation criteria is modeled after the IABC Gold Quill Awards criteria.
Winning entries must demonstrate that they met clearly stated objectives, show originality and demonstrate results based on measured outcomes. Evaluators consider how well a program was conceived and executed, how appropriate the chosen strategy and objectives were for the desired results, and how the outcomes are measured and achieved.
Questions? Contact our Vice President of Awards and Communications, Hunter Collins, at hunter@cumberlandcreative.co