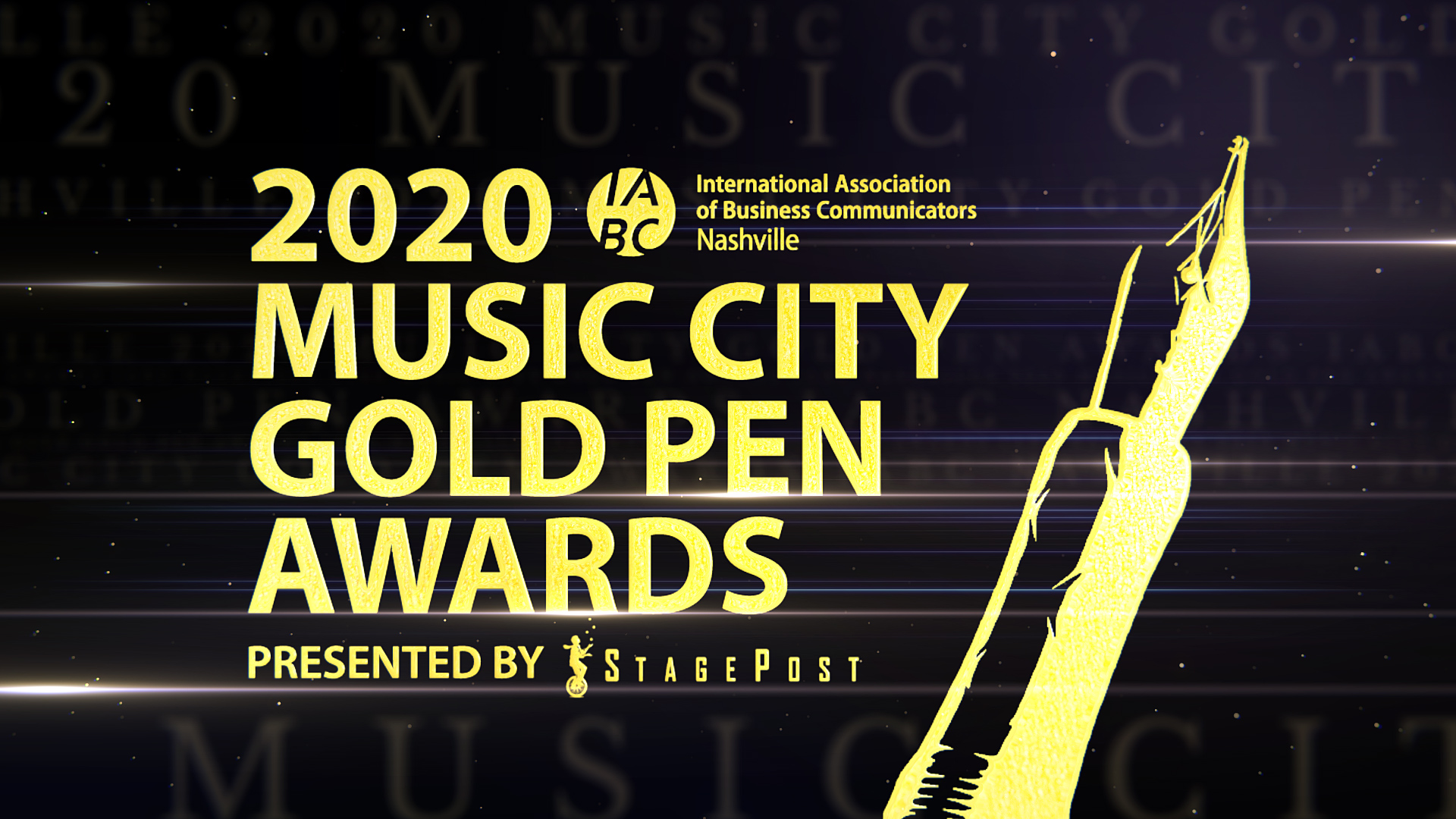 Thank you for joining us in recognizing business communicators from across Middle Tennessee and Southern Kentucky for their professional achievements and brand campaigns.
About the Event
IABC Nashville broadcasted the 2020 Music City Gold Pen Awards on November 2 on Facebook Live. Danielle Breezy, Chief Meteorologist from WKRN-TV Nashville News 2, served as emcee, and singer-songwriter and American Idol semi-finalist Sarah Lake was the musical guest. A total of 36 awards were presented in categories ranging from change communications to nonprofit campaigns. Photos from the awards celebration are posted here.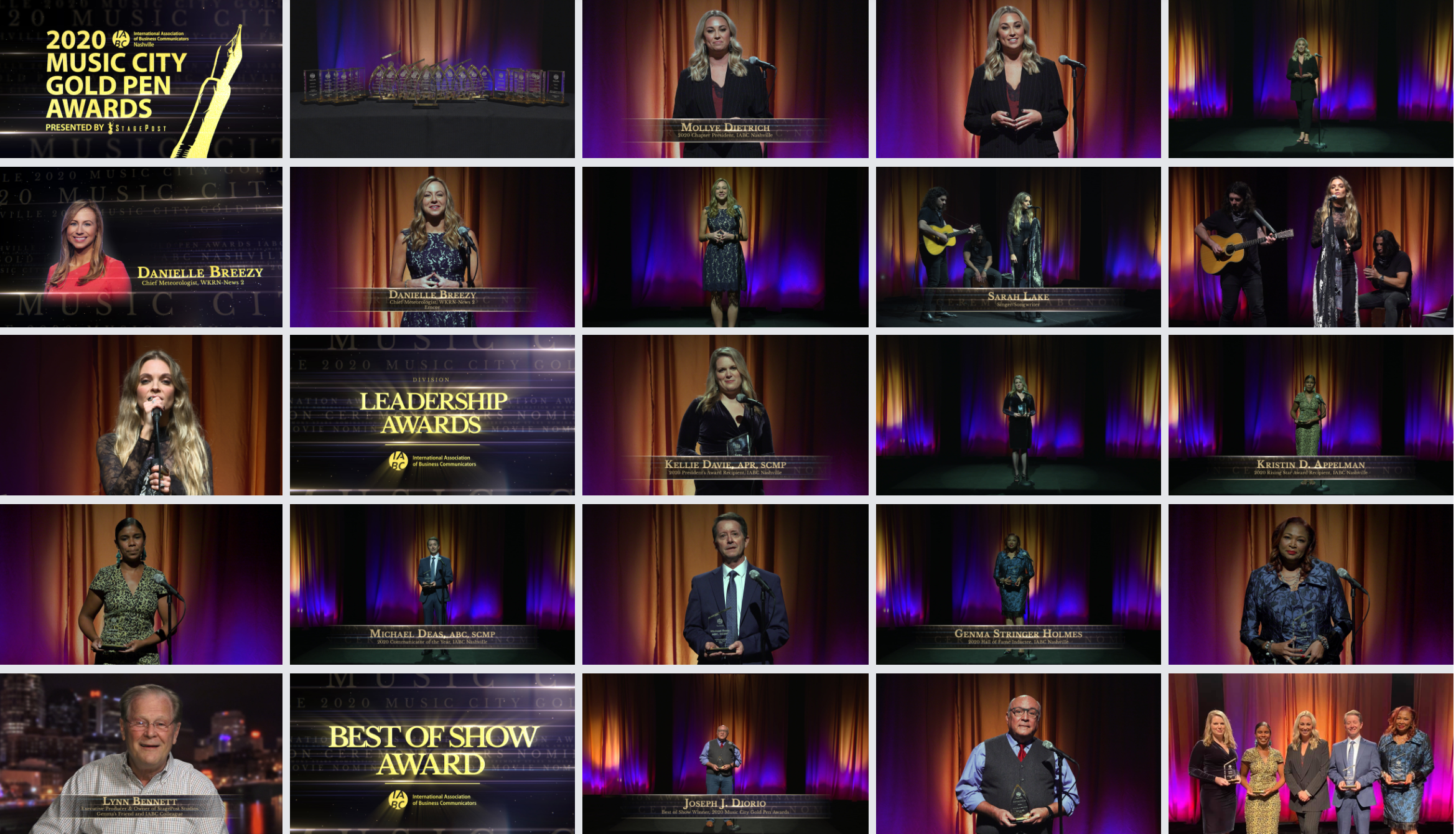 From Our President
"It is an honor for our chapter to recognize these communications professionals for their outstanding work and campaigns," said Mollye Dietrich, IABC Nashville president. "From internal communications teams to public relations agencies, this year's group of winners displayed the very best in business communications throughout Middle Tennessee and Southern Kentucky and are paving the way for our region to be recognized as one of the nation's top locations to be a communications professional."
Congratulations To Our Award Winners!

The award winners represented a range of industries, including strategic communications, public relations, non-profit, marketing, media relations, healthcare, and more. The teams at GSH Media and Keycom both took home numerous awards for their work in media relations, nonprofit campaigns, publications, audio/visual, social media programs, and special events. Words By Joe Diorio received the Best of Show award for the writing entry "A Few Words About Words" receiving the highest score out of all submissions. This year's award winners and categories include:
Centerstone, Audio/Visual
The Change Agent.cy, Change Communications
Frist Art Museum, Social Media Campaigns (2)
Gilda's Club of Middle Tennessee, Nonprofit Campaigns
GSH Media, Publications (6), Audio/Video (2), Social Media Campaigns
Jarrard Phillips Cate & Hancock, Audio/Visual and Special and Experiential Events
Keycom, Media Relations (2), Nonprofit Campaigns (2), Special and Experiential Events (2), Writing (2)
Smith Communication Partners, Human Resources and Benefits Communication
Veritas Federal Credit Union, Communication for the Web
Vokert, Inc., Communication for the Web
Words By Joe Diorio, LLC, Writing and Best of Show
World Christian Broadcasting, Audio/Visual (2)
IABC Nashville 2020 Leadership Awards
In addition to the Music City Gold Pen Awards entries, IABC Nashville also recognized individuals contributing to the chapter and profession with its 2020 IABC Nashville Leadership Awards. This year's award winners include:
Kellie Davie, APR, SCMP, President's Choice Award
Kristin Appelman, Rising Star Award
Michael Deas, ABC, SCMP, Communicator of the Year Award
Genma Stringer Holmes, 2020 Hall of Fame Inductee
Thank You To Our Sponsors!
Sponsors for this year's event including presenting sponsor, StagePost, gold sponsors Keycom and The Vincit Group, and silver sponsor Exhibits South.