An edited and abridged version of this article "IABC World Tour of IABC Chapters: Nashville" was published in the December 22, 2020 issue of The Bulletin, IABC's weekly newsletter.
Based in the heart of "Music City," IABC Nashville is a small – but mighty – chapter that has been accomplishing impressive things, despite the global pandemic this year. Our chapter has showcased that we can accomplish anything, irrespective of our size or circumstances. Our members are diverse, representing an array of industries and backgrounds – from health care companies, public relations agencies, marketing firms, public and private corporations, government, universities, and nonprofit organizations.
Before we entered the "new normal" of Zoom meetings and virtual events, communications professionals could attend our in-person IABC Nashville events and experience true southern hospitality at its finest – something in which IABC Nashville takes great pride. Whether attending in-person or virtual, communicators can continue to make authentic and genuine connections at IABC Nashville events (and you never know, you may even meet a talented musician or songwriter there!)
Our chapter – like many others – had to shift to all virtual events in the early spring of this year, but that didn't stop us from continuing to offer valuable networking and professional development events just like we normally would. In fact, we embraced the opportunity that virtual events provide to collaborate with others, and reach and support more people in the communications industry.
Here's a brief recap of some of the remarkable work that IABC Nashville has accomplished this year:
Making the most of virtual reality:
We made a seemingly seamless pivot from 100% in-person to 100% virtual meetings and events, overcoming the challenges that accompany a change of this magnitude – like setting up a Zoom account and learning how to use it! Following two successful in-person events in January and February, our chapter hosted twelve successful online-only events this year.
Our July professional development workshop, "Write to Win: Mastering the Art of Award Submission Writing," featured regional IABC awards program leaders as guest presenters, with over 130 attendees from all over the world who learned about award entry best practices. A special thanks to the IABC Southern Region, IABC Atlanta, Kansas City IABC, and IABC South Carolina for their collaboration and support in making this event happen.
In November, we broadcasted our 2020 Music City Gold Pen Awards on Facebook Live. A total of 36 awards were presented during the broadcast which was hosted by emcee Danielle Breezy, Chief Meteorologist from WKRN-TV Nashville News 2, and featured special guest singer-songwriter and American Idol semi-finalist Sarah Lake (because #MusicCity). In addition to the communications award entries, we also recognized individuals contributing to our chapter and the communications profession with our 2020 IABC Nashville Leadership Awards. This was our chapter's first ever virtual awards program, and it was a huge success!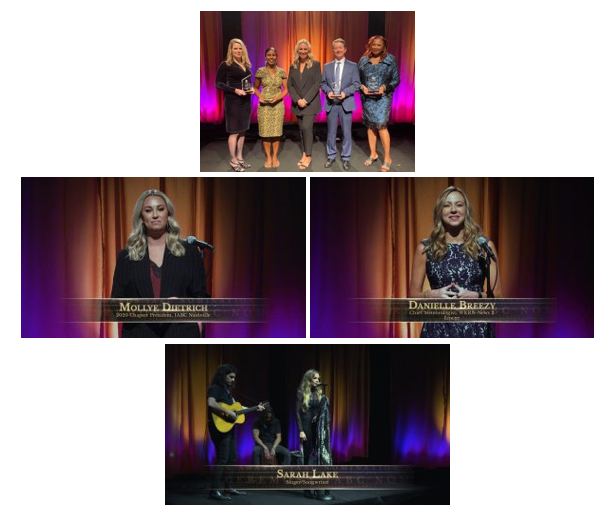 Using social media as a powerful tool:
IABC Nashville saw impressive social media growth this year, which allowed us to maintain an online connection with our members during this time of social distancing. Overall, we saw a 14% increase in Facebook followers, a 21% increase in LinkedIn followers, and a 10% increase in Twitter followers. Additionally, we reached almost 4,000 people on a single post: our virtual 2020 Music City Gold Pen Awards ceremony! We also saw increased engagement on Twitter when we started live tweeting during our professional development events. If you aren't already, follow IABC Nashville on Facebook, LinkedIn or Twitter.
Retaining a commitment to diversity and inclusion:
After the unjust murders and social injustices that have been taking place in our world, IABC Nashville reaffirmed our commitment to supporting and encouraging diversity, equity, and inclusion in the regional and global communication community. Our chapter promptly developed a statement that was used by the global IABC community as well. Read the chapter's full statement.
Our chapter hosted discussions with experts on critical topics such as gender identity/parity and diversity and inclusion strategy. In August, we facilitated a panel discussion titled "Talk the Talk AND Walk the Walk" where local experts shared their insights on strategic ways to create a corporate culture of diversity and inclusion – whether you're a small business or large company.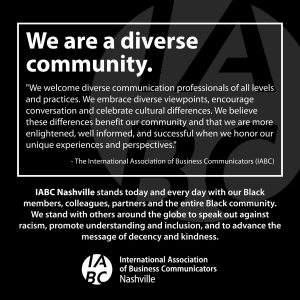 Seeing steady and increasing growth:
Despite the difficult economic situation of 2020, IABC Nashville was still able to see growth this year by recruiting new members. In fact, we were proud to be awarded with the Small Chapter Growth and Small Chapter Retention awards as part of the international October Member Month campaign.
IABC Nashville is rightly proud of what we have achieved this year and are looking forward to the future ahead. We look to continue to grow our chapter membership in 2021, and we are excited to continue engaging members, partnering with our IABC colleagues, and trying new things.
As a famous Nashvillian herself, Dolly Parton once said, "You'll never do a whole lot unless you're brave enough to try!"
On behalf of the IABC Nashville executive board of directors, we wish you a safe and happy new year. See you in 2021!