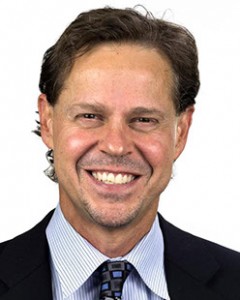 On a continuous basis, IABC Nashville spotlights its diverse members through a Q&A feature. We are pleased to showcase Javier Solano, vice president at McNeely Pigott & Fox Public Relations in Nashville.

IABC: What is your background?
SOLANO: OK, so there's the professional and there's the personal. Professionally, before I started working at McNeely Pigott & Fox, I was a sports reporter for about 10 years, most of that with the Orlando Sentinel. I made the switch to the "dark side" about 15 years ago and haven't looked back. Well, maybe once or twice.
Personally, I'm a first-generation citizen of the U.S. but also a citizen of Colombia, where I was born. My family moved here when I was very young. I grew up in the D.C. area. I moved to Tennessee because my wife got a scholarship offer from Vanderbilt Law. 'Nuff said.
IABC: How did you get started in this business?
SOLANO: Oh I don't know. If you want to go back to the very beginning, it was learning how to read and write. Underrated skills, even (or maybe especially) in this digital age. I grew up on the Washington Post and Odd Couple reruns, so all I ever wanted to be was a sports reporter. I did that for 10 years. It was a blast. But the schedule is nuts, the pay is awful and the bottom was about to drop from the entire industry just before I got out in 2000. I still miss it from time to time, but I was very fortunate to leverage those editorial skills into a job at a PR agency. I've never taken a communications class in my life. I can write. And I've learned a lot of other things, too, on the fly. Fortunately, there's more to this job than smiling and being good with people. Otherwise, I'd be in big trouble.
IABC: What is your current position and business affiliation? How long have your been in this role?
SOLANO: I am a vice president at McNeely Pigott & Fox Public Relations (www.mpf.com) in Nashville. I've been with the firm for 15 years. This is the only marketing/communications job I've ever had, unless you count being a reporter. Here at MP&F, I manage a few of our client teams, mostly in the areas of education and energy. Probably my most interesting client at the moment is Andrew Jackson's Hermitage. He's a fascinating man, not very well understood or appreciated in my opinion. My niche at the firm is probably these areas: media relations, Latino outreach and writing in general.
IABC: What makes your business/organization stand out?
SOLANO: This is probably going to seem a bit simplistic, but I think it's true: We work hard, we like what we do and we like each other. This line of work is probably not a perfect match with my skill set, but the reason I've been in it so long and with the same people for the past 15 years is that I like them. They're good people. They care about the city. They take on the right projects. They're not perfect; no one is. But their hearts are in the right place, and they've definitely played a role in the city's rise, especially if you focus on downtown.
IABC: If you could describe yourself in three (3) words, what would it be?
SOLANO: Ha, I'm so bad at stuff like this. My wife could probably knock it out in two seconds, though it may not be altogether flattering. OK, how about detached, artistic and goofy? I'm a Gemini if that helps.
Tell something about yourself people would be surprised to learn.
SOLANO: My grandfather played on the first Colombian national soccer team. … And how's this for symmetry: born in Colombia, grew up outside the District of Columbia, went to college at Columbia University. But I've never been to Columbia, Tenn. It's on my list (actually, no it's not).
IABC: What lesson(s) have you learned along the way that you believe has made you a better
communications professional?
SOLANO: Hmm, a couple of things, not necessarily related to each other:
Being good to your client/boss sometimes means disagreeing with your client/boss.
Celebrate success, not creativity. There will be times that you can do both. But one is more important than the other.
Be first. Once you're chasing a conversation, argument or story, it's difficult to catch up.
Say please and thank you. They're just nice things to do.
IABC: What makes an effective communications leader?
SOLANO: Talk less, listen more. And don't be a jerk.
IABC: What do you feel is the greatest benefit of IABC?
SOLANO: Can I give you two? Professional development and networking. I also happen to like the Nashville chapter very much. Very nice people. Probably closer to my age and interests than an organization like PRSA.
IABC: What prompted you to join IABC?
SOLANO: I was looking for professional development and networking opportunities. IABC offers that, along with an international network of chapters. I also wanted to get smarter about our awards process, and IABC has definitely helped with that.