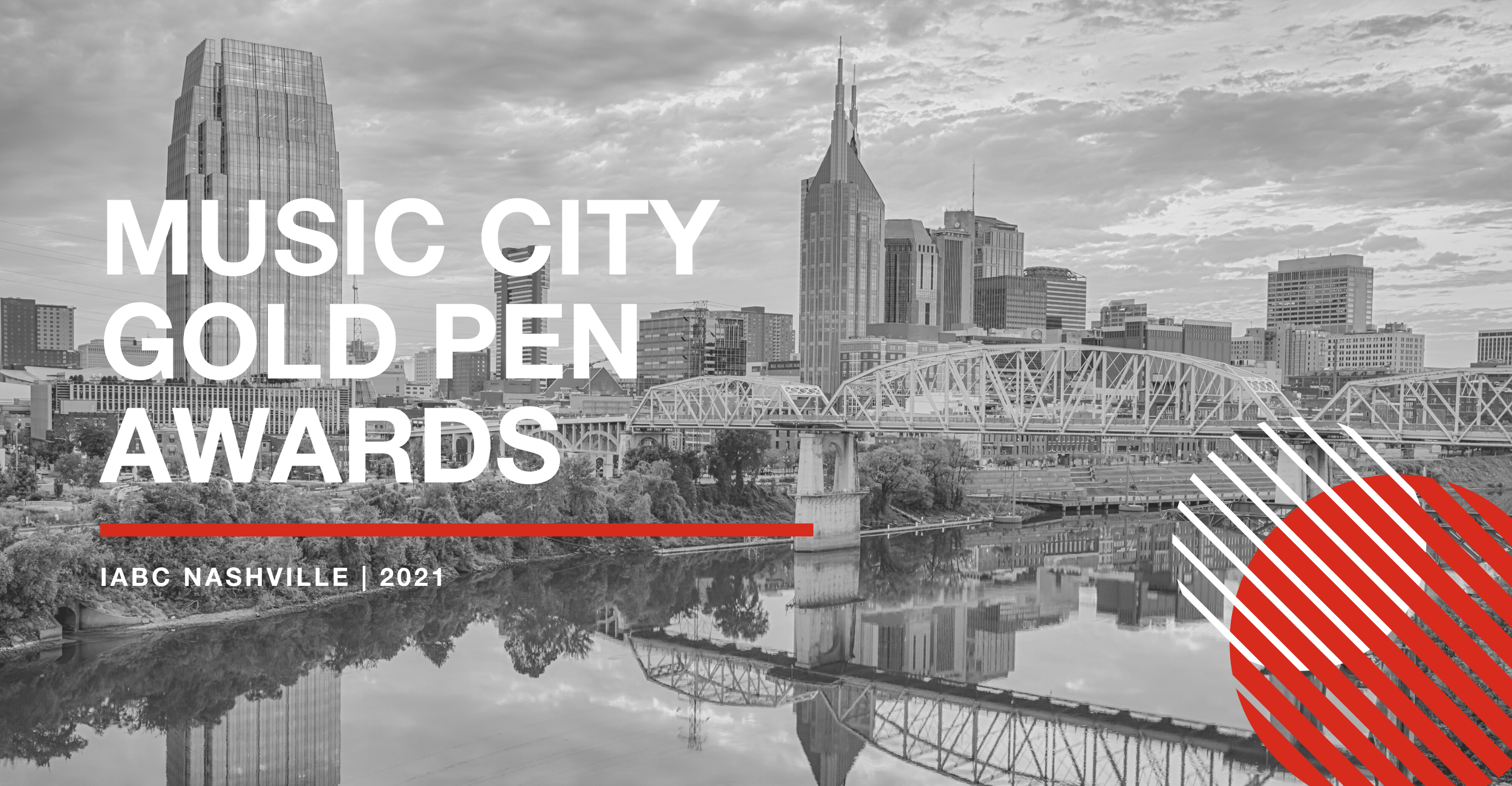 JOIN US AS WE (VIRTUALLY) CELEBRATE THIS YEAR'S AWARD WINNERS ON SEPTEMBER 16 AT 5 P.M. VIA ZOOM
LEARN MORE AND REGISTER TODAY>>
---
IABC Nashville will recognize Middle Tennessee professionals who exemplify excellence in strategic business communications, management skills, thought leadership, and creativity. Each year, the Music City Gold Pen Awards showcase leading-edge work from area communicators – members and non-members alike – from various sectors.
Submitting an entry will help you develop your professional knowledge and skills, and prepare for entry into the international Gold Quill Awards program. Judged by other IABC chapter professionals, a Music City Gold Pen Award is one of the most prestigious awards a communicator, designer, marketing strategist, or student can earn.
NEW: We have a new category on COVID-19-related programs under Division 1: Communication Management – Category 14B: COVID-19 Response & Recovery Management and Communication. You can also submit videos, writings, publications and other communication tools done for COVID-19-related programs in appropriate categories under the regular Division 4: Communication Skills.
---
KEY DATES AND INFORMATION

Now: Call For Entries Open

Thursday, June 24: Early Deadline


IABC Members: $110 Per Entry*
Non-Members: $150 Per Entry
Nonprofits/Students: $30 Per Entry

EXTENDED: Thursday, July 8 Wednesday, June 30: Grant Me Some Slack Deadline


IABC Members: $125 Per Entry*
Non-Members: $165 Per Entry
Nonprofits/Students: $40 Per Entry

NEW: There is a discount of $35 for submitting multiple entries. This does not apply to student entries.

Mid/Late August: Winners Notified

Thursday, September 16: Awards Celebration

*Must be an active IABC member to receive rate
+Subject to change due to COVID-19 pandemic

10 REASONS TO ENTER
THE 2021 MUSIC CITY GOLD PEN AWARDS

Demonstrate your skills in analytical thinking and creative implementation by entering an effective strategic communications plan according to IABC's global standards and criteria of excellence.
Earn credibility and a reputation as one among the best in the region.
Be recognized for your work by colleagues, your employer, and clients, with solid evidence that you're one of the best at what you do.
Fine-tune your skills with expert feedback from senior professionals.
Inspire your team and enhance their reputation, both internally and externally.
Build a business case for an increase in your communications budget.
Elevate the standard of professional communication in your organization.
Build a portfolio of work & a stronger resumė to open doors for new career advancements.
Show you can compete with the best.
Use the feedback from our local IABC chapter awards to enter an even stronger submission at regional and international levels.
WHO WE ARE
IABC Nashville is the local chapter of the International Association of Business Communicators, serving middle Tennessee and southern Kentucky. The Nashville chapter is one of more than 100 chapters in 70 countries, with a mission to provide professional development and networking opportunities to members, as well as the larger communications community. In 2017, they received the Small Chapter of the Year Award for outstanding efforts to bring professional communicators together in significant and inspiring ways.
The chapter is diverse, with members representing agencies, government, corporations, universities, and nonprofit organizations. IABC Nashville also offers ties to job bank services and the annual Music City Gold Pen Awards program. IABC is the only place to connect with communicators globally.
---
HOW TO ENTER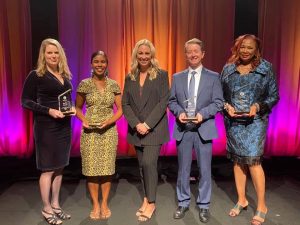 All entries must be submitted through the online judging system: https://iabcnashville.awardsplatform.com/
Choose the divisions and category combinations you want to enter. You may enter multiple categories within one division. And you may enter the same project, or parts of a project in different categories.
Write your work plan for entries in Divisions 1, 2, or 3. Work plans are limited to four (4) pages using a font size no smaller than 10-point and margins no less than 1⁄2 inch. Only one, single PDF file will be accepted for your work plan per entry.
For entries in Division 4, Communication Skills, you will need to submit a brief entry form, found within the awards platform process.
Prepare your work sample. After you upload your work plan (or Division 4 entry form), you will be able to upload a maximum of five work sample files.
Check your work sample files, which must be in PDF, PNG, JPG, GIF, MP4, WMV, M4V, MOV, or MP3 formats. Each file is limited to 5 MB in size.
Review your entry. You have the opportunity to revise your entry up until the deadline.
When you're ready, hit Submit.
After the final deadline of Wednesday, June 30, 2021, you will receive an invoice with the applicable amount due, based on your submission date/time, status, and number of entries (see payment options).
ELIGIBLE WORK
All work must have been implemented, published or broadcast between January 1, 2020, and the day of submission.
If a long-term strategy was developed prior to January 2020 and hasn't previously been entered, it is eligible for entry.
If you entered your work in 2020 and didn't win an award, you may revise and re-enter your project.
Entries that have won a Music City Gold Pen award in previous years may not be resubmitted.
REASONS AN ENTRY MAY BE DISQUALIFIED
The work plan exceeds 4 pages.
It is obvious the entrant did not play a role in the project.
The entry depends mainly on syndicated, borrowed, reprinted or stock material.
If the electronic files contain viruses, if they disable or require disabling of any part of the computer system used during evaluation, or if evaluators cannot view work samples using the instructions provided.
You are a consultant submitting work done for a client without their express permission.
ENTRY FEES
EARLY DEADLINE: Thursday, June 24 by 11:59 PM CT

IABC members: $110 per entry*
Non-members: $150 per entry
Non-profit/students: $30 per entry

EXTENDED DEADLINE: Thursday, July 8 by 11:59 PM CT

IABC members: $125 per entry*
Non-members: $165 per entry
Non-profit/students: $40 per entry
NEW: There is a discount of $35 for submitting multiple entries. This does not apply to student entries.
*To receive the IABC member rate, the entrant must be an IABC member.

Entries received after the FINAL DEADLINE will not be judged.
PAYMENT OPTIONS
Follow the instructions in the invoice email to make a secure online payment by credit card or PayPal. If paying by check, payments must be received by the invoice due date to qualify for entry (entries). Make checks out to IABC Nashville and mail to: Tom Kenley, Vice President of Finance, 119 Grant Court, Portland, TN 37148.
---
CATEGORIES AND JUDGING CRITERIA
Distinguish your work in four divisions. Use these resources from IABC's Gold Quill Awards to help you guide your entry.
| | | | |
| --- | --- | --- | --- |
| Division 1: Communication Management | Division 2: Communication Research | Division 3: Communication Training and Education | Division 4: Communication Skills |
Judges evaluate entries on a 7-point scale with zero being the lowest score and 7 being the highest. An entry is considered to be competent if it scores at least 4. Entries must receive 5.25 to receive a Merit award. Entries scoring 5.75 receive an Award of Excellence. The Music City Gold Pen evaluation criteria is modeled after the IABC Gold Quill Awards criteria.
Winning entries must demonstrate that they met clearly stated objectives, show originality and demonstrate results based on measured outcomes. Evaluators consider how well a program was conceived and executed, how appropriate the chosen strategy and objectives were for the desired results, and how the outcomes are measured and achieved.
NEW Category for 2021: COVID-19 RESPONSE AND RECOVERY MANAGEMENT AND COMMUNICATION
Division 1: Communication Management
Category 14B: COVID-19 Response and Recovery Management Communication
COVID-19-related programs targeted at external and/or internal audiences that address crisis, business continuity or issues or attitudes that have a significant impact on an organization, such as shuttering/re-opening businesses, furlough/layoff staff, redesigning business operations
Programs may demonstrate both proactive planning and preventive action during the pandemic and/or show the actions taken to address trends, issues and interest group attitudes that have a major impact on an organization
View Entry Details and Category Descriptions Here
---
SUBMIT YOUR ENTRY ONLINE
After reviewing the entry instructions provided above for your division(s), click through to the IABC Nashville awards website, and get started. Once you begin your entry, you have the option of stopping, saving your work, and completing it later.
In the past, it has come to our attention that some company firewalls are not allowing award entrants to access the
Music City Gold Pen Award submission platform
supported by Award Force. If you are experiencing this issue, follow the steps below.
SUBMISSION PLATFORM TIPS AND TRICKS
Ask your IT department to whitelist the awards platform URL: https://iabcnashville.awardsplatform.com
Open the firewall software on your computer and whitelist the awards platform URL yourself: https://iabcnashville.awardsplatform.com
Use Opera Turbo to bypass network blocks. Download Opera Turbo, and follow this guide explaining how to enable Turbo mode.
Submit your entry from an off-site location and/or computer.
ADDITIONAL OPPORTUNITIES TO PARTICIPATE
---
Leadership Awards
IABC Nashville is proud to support three Leadership Awards designed to honor outstanding communicators in our region. These awards are designed to recognize members for their outstanding achievements and positive impact on the profession and IABC Nashville. Categories include:
Rising Star: Salutes a young, dynamic leader who is shaping the future of IABC Nashville.
Communicator of the Year: Recognizes a communication leader who demonstrates exceptional leadership, management, and communication skills.
Hall of Fame: Lifetime achievement as an outstanding communicator whose contributions have raised the standards of professional communications.
*Nominee must be an active member of IABC Nashville
---
Judging Partners
A BIG thank you to our official award partners, IABC Atlanta and KC IABC, for providing judges for the 2020 Music City Gold Pen Awards. As part of this partnership, members from IABC Nashville will be judging the
KC Quills
and
Golden Flame Awards
.
---
Sponsorship Levels
Sponsors of the Music City Gold Pen Awards gain visibility and recognition from the region's top business communicators. Showcase your company to event attendees by becoming a sponsor and reach a group of decision-makers and influencers in the business community. This year we will be offering four sponsorship levels including Presenting, Gold, Silver, and Bronze levels. We also accept in-kind/trade sponsorships to help us execute the event, and will grant you one of the sponsorship levels based on the value of your trade.
Questions? Contact our Vice President of Awards and Communications, Katie Adkisson, APR, at katie@reedpublicrelations.com.