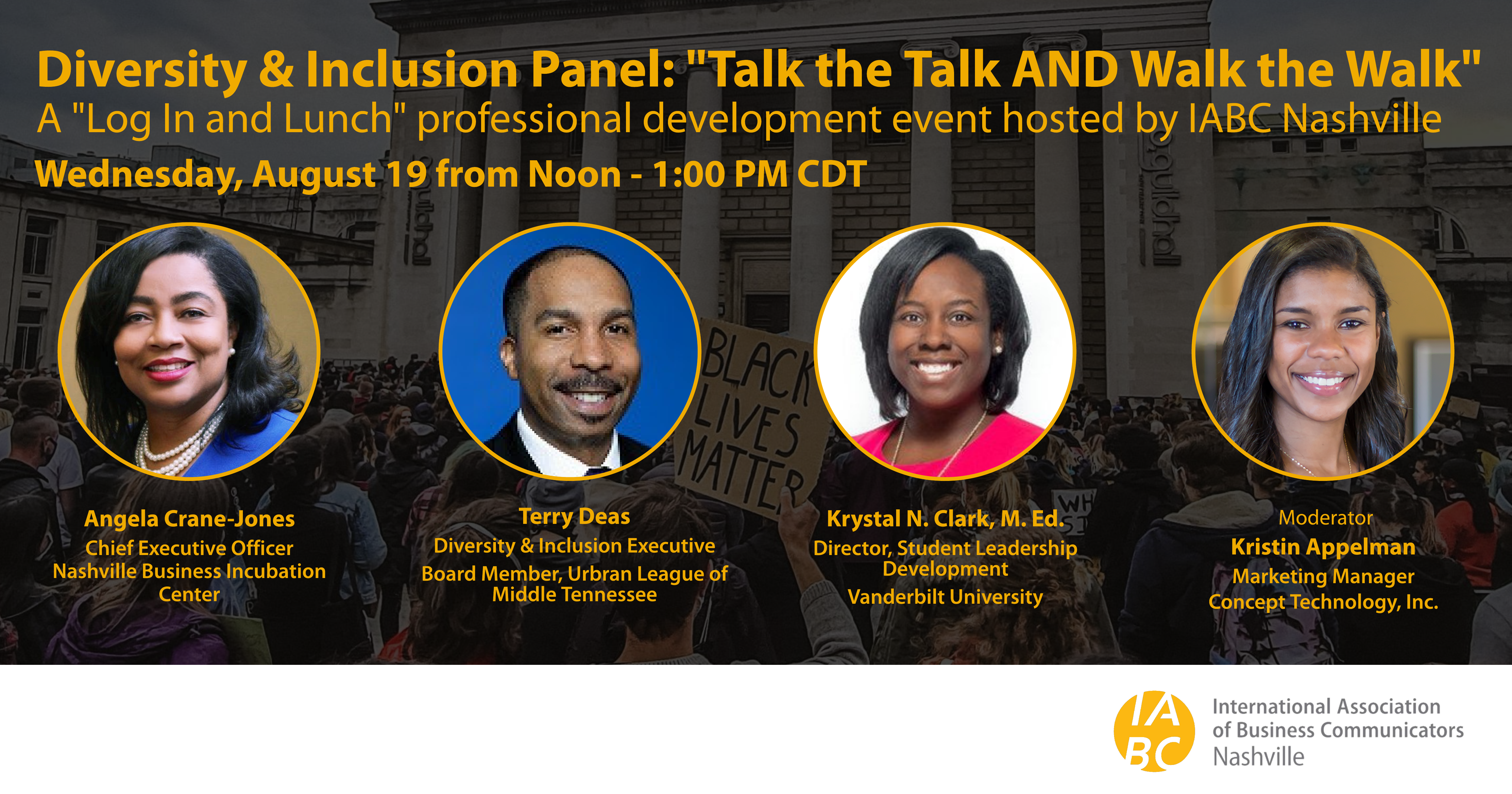 From starting as a social media campaign to transforming into the civil rights movement of this generation, Black Lives Matter has shifted our conversations about racial injustices from the boardroom to the dinner table. Business communicators from all over the world are releasing statements condemning racism, but how can we become better allies in implementing change beyond our words?
IABC Nashville would like to invite you on Wednesday, August 19 from Noon – 1:00 PM to join us in a conversation about creating a corporate culture of diversity and inclusion while learning more about the racial injustices and prejudices that have impacted our modern world. We'll be joined by a panel of experts who will share their personal stories and invaluable insights including:
Best practices on diversity and inclusion verbal and written communications
Strategies on building and working with diverse teams
Discuss actionable steps needed to create an inclusive corporate culture and maximize leadership team potential
Highlight the positive impact that a diversity strategy can have on an organization's long-term success with its key stakeholders
We encourage all business communicators and members of our online community to join us for this important conversation.
Free for IABC members, $15 for non-members
Panelists: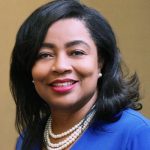 Angela Crane-Jones, Chief Executive Officer, Nashville Business Incubation Center
The Nashville Business Incubation Center is lead by Chief Executive Officer Angela Crane-Jones. Angela Crane-Jones has served NBIC since 2003, being appointed to this role, after a progressive experience with the organization, in 2013. Previously, she served as Interim CEO, where she forged business relationships with the Small Business Development Center, U.S. Small Business Administration, IRS, Veterans Affairs, and Operation Stand Down among others to provide additional training and educational opportunities for the businesses at the Incubation Center and Entrepreneur community-at-large. She began her tenure with NBIC as Assistant Director from 2003 – 2012, Mrs. Crane-Jones took an active leadership role in securing consulting services for the center's clients, developing community resources and developing programs supporting the needs of NBIC clients. Prior to joining the center's staff, Mrs. Crane-Jones was owner/operator of two Dairy Queen Restaurants where she gained valuable experience in retail and food operations, marketing, and forecasting. She holds a Bachelor of Business Administration degree and a Master of Arts degree from Tennessee State University.

Terry Deas, Diversity & Inclusion Executive, Board Member, Urban League of Middle Tennessee
An expert diversity and outreach strategist, actively involved in the greater civic and corporate community. Terry Deas has been responsible for leading overall diversity and outreach strategies for some of the region's largest corporations. Before joining Cracker Barrel Old Country Store in 2012, Terry served as Director of Diversity & Inclusion at Ceridian Corporation where he was responsible for all aspects of the company's Diversity & Inclusion (D&I) strategy. He also worked in a variety of leadership and management positions at Hewlett-Packard and the Allegis Group. Terry is actively involved in the greater civic and corporate community. He is a member of the Urban League of Middle Tennessee Board of Directors and the Georgia and Texas NAACP Corporate Advisory Board. He is a also member of Kappa Alpha Psi Fraternity Inc. and the Monitors Club. From 2009 to 2010 Terry served on the board of the House of Charity, a nonprofit in Minneapolis, MN that provides food, shelter, and assistance for individuals in need.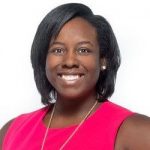 Krystal N. Clark, M.Ed., Director, Student Leadership Development, Vanderbilt University
Krystal Clark is the Director for the Office of Student Leadership Development at Vanderbilt. Krystal has decided her career in Student Affairs and earned her Masters of Education in College Student Personnel from the University of Maryland, College Park. After four years as the Program Coordinator for Fraternity & Sorority Life at Duke University, she made the move to Nashville, TN to serve as the Associate Director of Greek Life at Vanderbilt University. In 2015, Krystal was promoted to Director of the Office of Student Leadership Development.
Leadership has always been a passion for Krystal as she was a very involved student leader, co-taught leadership development courses while in graduate school, and served as a fellow for the National Leadership Symposium. Krystal served as a member of the Leadership Engagement Alliance at Duke University and the Leadership Taskforce at Vanderbilt. She serves as a facilitator and speaker for leadership development programs at colleges/universities, nonprofits, and for inter/national fraternal organizations.
Krystal is a proud member of Delta Delta Delta Fraternity serving as a member of the Inclusion Taskforce and in the Nashville Alumnae Chapter as a member of the Eve of Janus Planning Team, she is currently Vice-Chair of the Belcourt Theatre Board of Directors, Co-Chair of the Grants Committee for the Community Foundation of Middle Tennessee's Women's Fund, Chair of YP Nashville, a Friend of Monroe Carell Jr. Children's Hospital at Vanderbilt and a Friend of the Nashville Ballet. Clark has also served as the President of the Junior League of Nashville (2017-2018), a former Big Sister for Big Brothers Big Sisters of Middle Tennessee, a former Board of Directors members of Girls on the Run Middle Tennessee. She was a finalist for the 2012 Nashville Emerging Leader Award in the field of Education as well as the Junior League's YP 2015 Nominee for the Nashville ATHENA Award. Krystal is also a member of the 2015 class of Nashville Emerging Leaders a 2016 Fellow and a member of the 2017 Class of Leadership Nashville.
Moderator: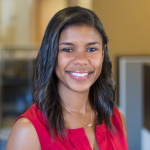 Kristin Appelman, Marketing Manager, Concept Technology, Inc.
Kristin Appelman is an experienced business communication professional and currently serves as Marketing Manager for Concept Technology. She is a passionate marketing professional with a Bachelor of Arts (B.A.) focused on Public Relations, Advertising, and Applied Communication from Western Kentucky University. Kristin serves on the IABC Nashville board of directors as Vice President of Membership.