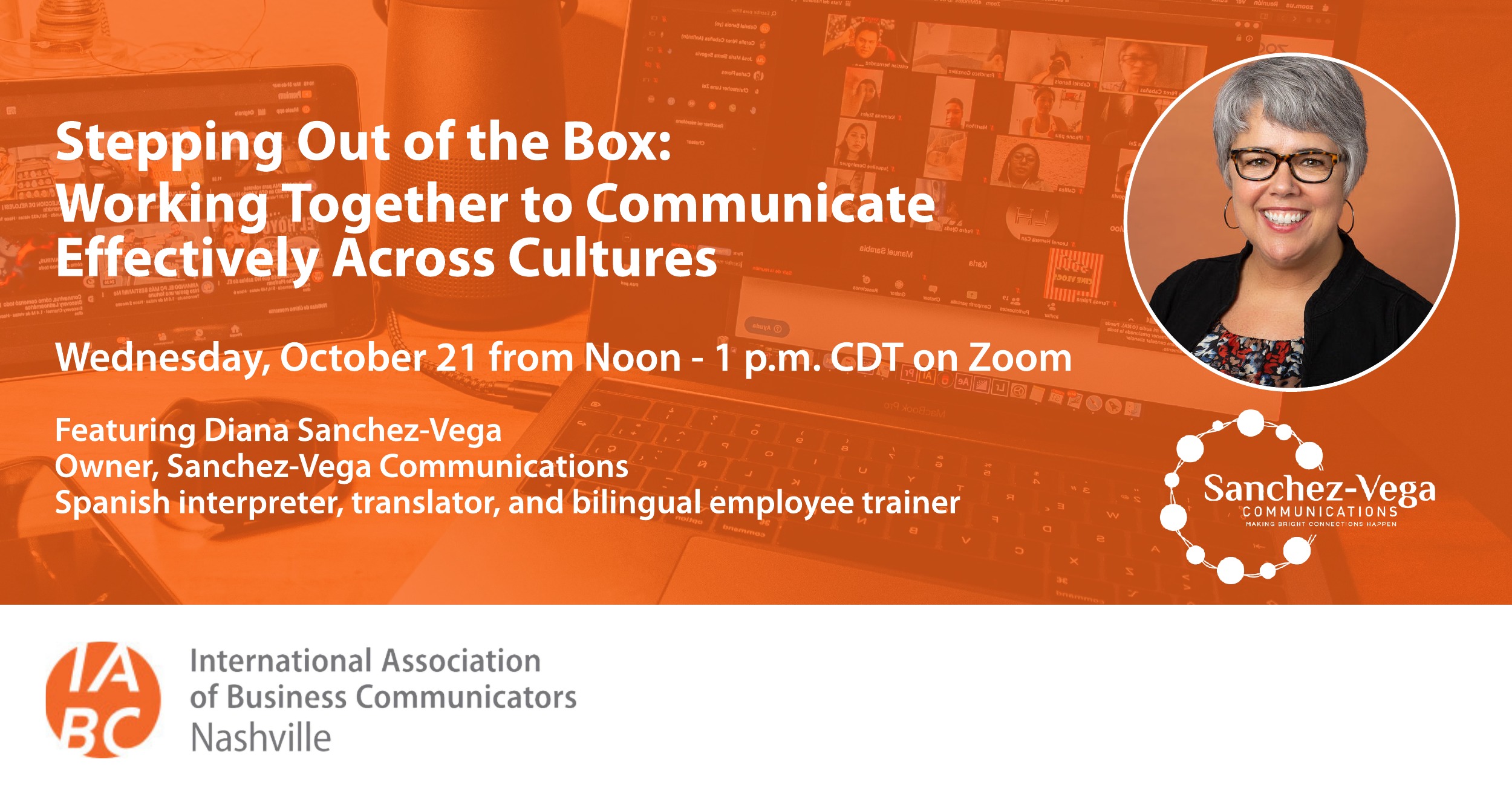 Join IABC Nashville on Wednesday, October 21, at 12:00 PM CDT on Zoom for an insightful conversation on communications and culture with Diana Sanchez-Vega, owner of Sanchez-Vega Communications. Diana will discuss acculturation's reciprocal process – where host communities and newcomers often find themselves engaged in planned and serendipitous interactions- and how cultural humility can propel effective communication in any multicultural setting. Diana will also address the benefits of stepping out of the box when communicating with limited English proficient speakers to engage in mutually productive dialogue.
Attendees will learn more about the following:
How to effectively communicate across cultures in both professional and personal settings
How to confidently manage cultural barriers to achieve common goals
How to think more broadly in a multicultural scenario to ensure everyone feels included and respected
About the Speaker:
Diana Sanchez-Vega is a bilingual employee trainer, speaker, and Spanish interpreter/translator. She also coaches bilingual individuals to find work. Since 2003, Diana's business, Sanchez-Vega Communications, facilitates interactions and learning processes to empower others to have more profitable and effective communications.
A twice nationally certified Spanish medical interpreter, Diana holds a Master of Arts in Psychological Studies and a Bachelor's of Science in International Business. She also speaks intermediate Portuguese and is versed in French.
Raised in the duality of the Anglo-Argentine environment, Diana learned at an early age how to navigate between two cultures, two belief systems, and two social classes. Once in the US, Diana immersed herself in a true process of acculturation by engaging with the communities where she lived. She has served as an advisor for multiple local nonprofit and government organizations, and in 2007, Diana received Nashville Business Journal's Women of Influence Award for nonprofit leadership.
Free for IABC Members and $15 for Non-Members