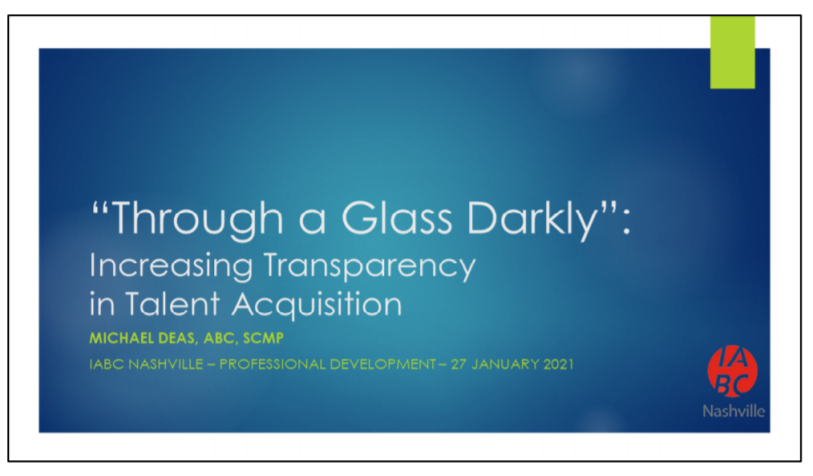 Thank you to all that attended our first professional development event of 2021, "Through a Glass Darkly: Increasing Transparency in Talent Acquisition," featuring Michael Deas, ABC, SCMP, Marketing Manager at Lee Company. We hope you enjoyed hearing Mike's recommendations for improving the disconnect between those seeking jobs and those seeking to fill them based on his personal seven-month job-search experience last year. Key insights gained from this hour-long presentation include:
Tips to be more transparent and visible in your job search
How to "stand out" from the competition as a hiring employer or a job seeker
Recommended, and not so recommended, tools and platforms to help your success rate
---
About the Speaker: Michael Deas, ABC, SCMP
Michael Deas, ABC, SCMP, has filled a number of diverse roles over his 36-year career: editor, missionary, translator, marketing manager, corporate communications manager, and communications director. Currently, Mike is Marketing Manager for the Lee Company, a $300-million home and facility services firm in Franklin, Tennessee.
Mike has been a member of IABC for 24 years, a chapter president of IABC South Carolina, an Accredited Business Communicator since 2004, and a Strategic Communication Management Professional since 2018. In 2020 Mike served on the board of IABC Nashville and was named IABC Nashville's "Communicator of the Year." He has been recognized 15 times with awards for excellence in communication.
His wide range of experience in both internal and external communication roles–for companies large and small, public and private, for-profit and nonprofit, on both sides of the Atlantic, in two languages–equips him with insight into the challenges facing today's communicators.
---
We are thrilled that the presenter has provided us with slides from the presentation, which can be downloaded in the link below. Also provided is a recording of the event just in case someone you know missed it.