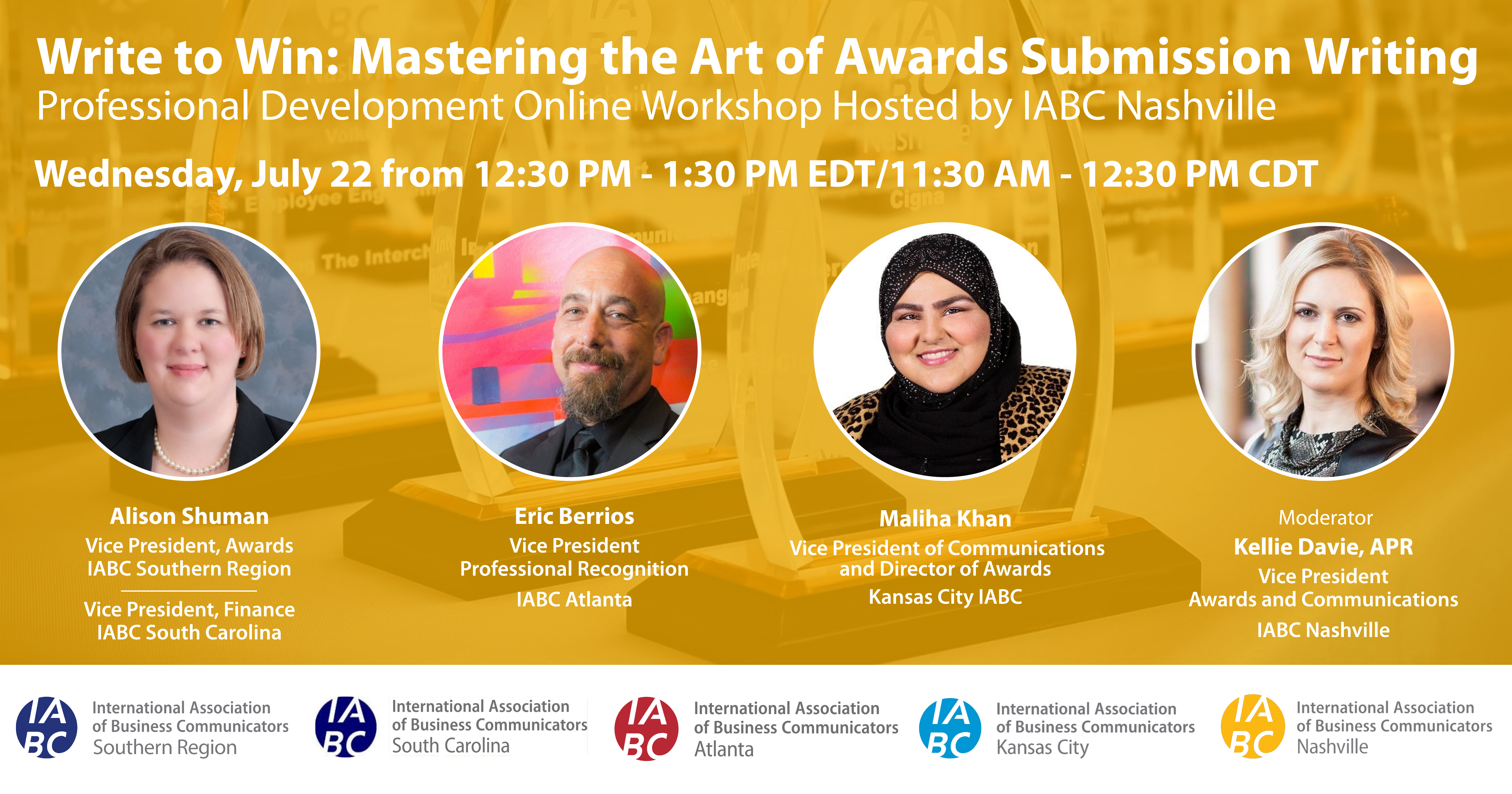 Are you entering award nominations for your organization, but not getting the results you deserve? The problem could be the way you are filling out your application. Successful award entries take time, strategy, and dynamic storytelling.
Join us on Wednesday, July 22, for an in-depth panel discussion on award writing best practices with some of the International Association of Business Communicators' (IABC) professional recognition leaders. Learn how to avoid common pitfalls and ways to make your entries stand out in front of judges. This workshop will include:
Identifying common mistakes and writing problems
Understanding judges and what they are looking for
Proactive planning to avoid late deadlines
Crafting entries that tell a story and demonstrate results
These best practices will prepare you to submit any type of award entry, regardless of industry and award type. This online event is free for IABC members and non-members.
Panelists:
Alison Shuman, Vice President of Awards, IABC Southern Region, Vice President of Finance, IABC South Carolina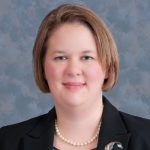 Alison Shuman is a corporate communications coordinator II for Farm Bureau Insurance, a leading provider of auto, home and life insurance in South Carolina. Prior to joining Farm Bureau Insurance in 2007, Shuman was the scholastic press manager for the South Carolina Scholastic Press Association (SCSPA) and the Southern Interscholastic Press Association. She was also the assistant director of the Carolina Journalism Institute. Alison is an active member of the IABC South Carolina chapter, AAF of the Midlands, and the Chartered Property Casualty Underwriter Society of South Carolina (CPCU/SC). She has held numerous board positions including president with IABC/SC and CPCU/SC and currently serves as a member-at-large with IABC/SC and a director with CPCU/SC. Alison serves as Vice President of Awards for the IABC Southern Region's Silver Quill Awards and Vice President of Finance for IABC South Carolina, home of the Palmetto Awards.
Eric Berrios, Vice President of Professional Recognition, IABC Atlanta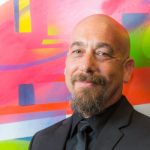 Eric Berrios is an independent consultant focused on working with small and mid-size agencies and companies in need of market strategy, brand direction and messaging. With 30 years in the agency world, Eric brings the knowledge and pragmatism needed to drive brands forward in a timely and economic manner. Previous to this life, Eric served as VP Client Services for Realm Advertising working with logistics, finance and manufacturing brands. Before that, he served as VP Interactive and Operations for Harrison Leifer DiMarco, in New York, servicing healthcare, consumer packaged goods and the industrial sector. Eric has been serving as vice president of recognition for several years and continues to facilitate and coordinate the Golden Flame Awards for IABC Atlanta.
Maliha Khan, Director of Awards, Kansas City IABC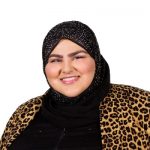 Maliha is an award-winning marketing professional with more than 10 years of industry experience and the creative force behind Khanect the Dots, a boutique marketing firm based in Kansas City. Maliha loves keeping up with current marketing trends and has a fondness for helping associations enter the content marketing world, plus she has more than five years of association management experience. Maliha serves at the Director of Awards for the Kansas City IABC chapter's KC Quills Awards program.
Moderator:
Kellie Davie, APR, Vice President of Awards and Communications, IABC Nashville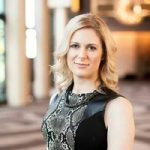 A veteran of the communications field, Kellie Davie founded Keycom PR with a vision: to provide businesses with the marketing tools they need with the results they expect and deserve. An entrepreneur and award-winning marketing executive, Kellie knows what it takes to deliver organizational and marketing growth for a broad range of businesses and industries. From national consumer brands to local nonprofit organizations, Kellie has worked with the leaders in consumer branding. In 2017 she was named the University of Tennessee's "Public Relations Alumna of the Year." Additional accolades include being named one of Nashville's "Top 30 Under 30" by the Cystic Fibrosis Foundation of Middle Tennessee, "Young Professional Emerging Leader" by the Tennessee Hospitality & Tourism Association, and a finalist in the Nashville Area Chamber of Commerce's "Nashville Emerging Leader Awards." Kellie serves at Vice President of Awards and Communications for IABC Nashville and oversees its Music City Gold Pen Awards program.