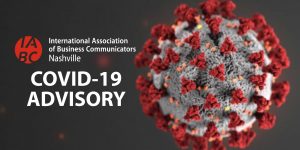 As many of you are aware, President Trump declared a national state of emergency over the Coronavirus (COVID-19) outbreak last week, and the CDC issued guidance on in-person gatherings, including a recommendation of social distancing of groups of 10 or more. The number of people affected is rising fast and has begun to impact those in our region. The IABC Nashville Board of Directors is actively monitoring the situation with the health and safety of our communications tribe as our top priority. As a result, the following actions are being taken:
Effective immediately

, all in-person IABC Nashville

networking events

,

professional development luncheons

, and the

2020 Music City Gold Pen Awards

will be postponed until further notice. The threat of COVID-19 is a rapidly evolving situation and one that we must take seriously. Our Board of Directors will continue to monitor the situation and will rely on guidance from federal, state, local governments, and the CDC.

We live in a digital age and now is the time to embrace the technology that we utilize in our day-to-day lives. Our Board of Directors will be strategizing on ways we can potentially offer professional development opportunities to our members digitally. For the latest updates on these developments, be sure to check our

website

and

social media channels,

including

Facebook

and

LinkedIn

. In the meantime, we recommend visiting the

IABC Academy website

offering excellent online training programs and courses on various topics.

Several of you have already registered for events in March and April. As previously stated, all proceeds from our networking mixer that was to be held on March 12 will be donated to the Community Foundation of Middle TN to help with Nashville tornado relief efforts.

IABC Nashville will provide a full refund or a credit toward any other IABC Nashville event that you may have already registered for.

We understand the importance of in-person meetings, but we must be vigilant in doing everything we can to mitigate the risk associated with COVID-19 – and that means keeping our community safe.
This is a challenging time for our city, our nation, and our world but we are #NashvilleStrong and will get through this together. Please continue to take care of yourselves and take care of each other. We look forward to networking with you in person soon. If you have any comments or questions, please don't hesitate to reach out via email.
Warmest Regards,
Mollye Dietrich
2020 IABC Nashville President