A guest blog by Joe Diorio
Fans of the Nashville Sounds know it's not unusual to see a very different team on the field from one year to the next. Change is the nature of the game in the minor leagues as players move on to another team, or even to the major leagues.
But since April 17, 2015, one uniform for the Sounds has been consistently worn by the same individual. That would be "Booster the Rooster," the Nashville hot chicken, who continues to be an integral part of the Sounds' marketing and outreach efforts.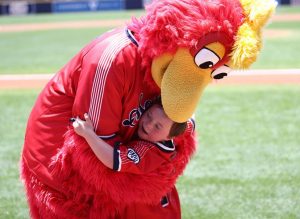 Booster is a goodwill ambassador for the Sounds, and he can be found at all the Sounds home games. He's also frequently seen on the road, or on a Metro bus, or downtown on lower Broadway handing out tickets to Sounds home games. He appears at corporate events, charitable events, even the occasional private party. In early June he's sure to be seen at more than a few events aligned with the CMA Music Festival, Nashville's celebration of country music.
"Booster is what we like to call a 'free range chicken'," explains Buddy Yelton, mascot coordinator for the Sounds. "When he's not here at the stadium he's venturing out to downtown, saying hello to people who are out and about on their lunch break. He goes to schools, to the children's hospital, charity runs and a lot of grass roots appearances, all the while spreading the word about Nashville Sounds baseball."
Although closely aligned with Nashville, Booster hasn't appeared on another thing that's closely associated with Nashville: he hasn't been on a pedal tavern – yet. "He's not against a pedal tavern," Yelton says. "We just haven't worked out the scheduling."
The underlying, heck, the overt message is: Booster is all about fun. "Booster is a big kid. He can hang with the two-year-olds as well as the college kids and adults," explains Yelton, who knows a thing or two about the team mascot after having been the mascot coordinator for the Sounds for the past 20 years.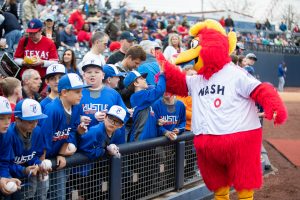 Business entities choose many ways to market themselves. Mascots are a popular marketing tool for professional and collegiate sports teams, and Booster has established himself as the feathered face of the Sounds, the Pacific Coast League AAA minor league affiliate of Major League Baseball's Texas Rangers.
Booster came about, so the story goes, when the Sounds first moved to First Tennessee Park from Herschel Greer Stadium in 2015. Allegedly a Sounds souvenir baseball was accidentally knocked into a deep fryer containing chicken. "There was an explosion, and the next thing you knew there was Booster," Yelton says.
The team likes to use social media to engage with fans and get a feel for Booster's effectiveness. Follow @SoundsBooster on Instagram and Twitter and you can see where Booster will show up when he's not at the Ballpark. You also can see who's following him, and who "likes" or retweets his photos.
"It's real grassroots marketing for us," Yelton explains. The Sounds take photos of Booster with fans and post them to social media, and the fans often tag Booster in their posts. "It's a 21st Century way for gauging our effectiveness," Yelton says.
Yelton admits that while Booster seems immensely popular with fans, he sometimes gets confused with other mascots. When the Sounds play the Memphis Redbirds, for example, the minor league affiliate of the St. Louis Cardinals, Memphis fans confuse booster for the Cardinals mascot, "Fredbird." And occasionally, a youngster has thought Booster was Elmo from Sesame Street.
"We haven't done any DNA testing to see if Booster has any relationship to the San Diego Chicken, though," Yelton says, with tongue planted firmly in cheek.
Booster is available for events. Just tweet him for details.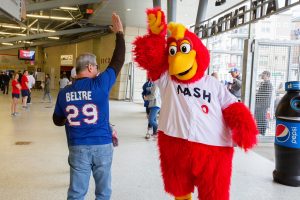 ###
Joe Diorio is a Nashville IABC member and a freelance writer, editor, and proofreader. You can sign up for his newsletter, "A Few Words About Words," by visiting his website.
Would you like to be a guest blogger?
Email us at iabcnashvilletn@gmail.com!