By Kerry Burke
It's hard to believe that we are over a month into this new world of social distancing and remote working. For many of us, this is a strange and challenging new reality where we are learning to juggle multiple things at home while continuing to produce our best work – and all while emotionally processing everything that is going on in the world.
One of the most important things we can do to help us get through this time is to practice self-care. You may have heard the phrase "You can't pour from an empty cup," and that is important to remember as we navigate this new way of living and working.
There are many helpful resources online that share best practices for working remotely, and hundreds of articles on self-care during the time of COVID-19. Everyone is different, and it's important that we all find an approach to self-care that works for us. A good place to start your self-care journey is by asking yourself: What can I do to take care of my well-being so I can continue to be the best communications professional for my company?
I've participated in numerous Zoom meetings, phone calls, and text conversations with friends and colleagues from across the country where we have discussed this same question. What I've learned is this: there is no right or wrong way to take care of oneself during stressful and uncertain times. As I mentioned, we are all different and you have to do what is best for you. Taking that into account, I started keeping a list of things that help me feel energized and motivated, and a list of things I did that would make me feel lethargic or stressed. Journaling these activities throughout the day helped me notice trends in my work performance and mood, and I have been able to adjust accordingly.
Important disclaimer: By nomeans am I a psychologist, nutritionist, or life coach. But as a professional communicator, I have a love for writing and connecting with others and I hope these insights in my journey towards self-care will help motivate you in being the best person and professional you can be in this "new normal" we are navigating together.
Energizing habits:
Maintain structure: I try to maintain my morning routine as much as possible to set myself up for success. If you aren't doing this already, try getting ready each morning as you would for a normal workday – shower, get dressed (leggings are totally OK!), make your bed, exercise, etc.
Eat well: I always feel my best when I'm eating healthier. I was eating a lot of processed foods when this all started, and once I got back to incorporating more fruits and vegetables into my diet, I felt 100 times better. The Harvard Health Blog published a blog about eating during COVID-19 that offers some great tips on how you can eat healthy to improve your mood and lower stress. If you have a tough time meal prepping or aren't a fan of cooking, there are places that will do the meal prep for you, and some will even bring it to your door with contactless delivery. Some of my favorites in Nashville are Eat Well Nashville and Clean Eatz.
Get some fresh air: During my lunch break, after logging off from work, and on the weekends, I find going outside for walks and runs with my dog Brady keeps my spirits up and re-energizes me (and Brady loves it, too!). Some of my favorite spots include the nearby 12th South neighborhood, the Richland Creek Greenway, and the streets in my own neighborhood. I encourage you to find some areas near where you live where it's safe to walk (sidewalk is preferable!) and not overcrowded or visit a local greenway.
Breathe: At least once a day, I try to do a quick guided meditation or a yoga video. It helps calm my thoughts and be more present and mindful. Take a few moments each day to focus on your breathing, or try meditation and/or yoga. You can find many free guided meditations and yoga classes on YouTube, and many apps and gyms are now offering free videos as well.
Stay connected: I'm so thankful for the technology that keeps us connected when we can't be together in person – whether it's Zoom, Skype, FaceTime or Google Hangouts. Zoom is my personal favorite, and I have weekly Zoom dates with friends and family to help me stay connected to them.
Write it down: As I mentioned earlier, journaling and creating lists have been very helpful in my quest for quarantine happiness. You can purchase some fun physical journals – either blank or with daily journal prompts, and/or you can do what I do and capture lists and thoughts in a note app like Evernote.
Not-so-energizing habits / Habits to avoid:

Watching too much news: After the first two weeks of the COVID-19 pandemic, I was on media overload and had to take a break. It's important to stay informed, but that does not mean we need to watch every press briefing and read every article. I now set aside specific times each day (usually once in the morning, and once in the evening) when I allow myself to check the news. I am careful to only read and watch reputable, unbiased news sources, and keep up with the most recent CDC guidelines.
Social media overload: While social media helps us feel connected to one another during social distancing, it can also breed negativity and anxiety. Like I've done with my news intake, I have set aside certain times during the day where I check social media. Additionally, I try not to get sucked into reading negative posts or comments. The goal of designating times to check news and social media isn't to be 100% successful (and I certainly have my moments of weakness!), but to help us be mindful and try to limit screen and scroll time so we can focus on other things.
Indulging stress vices: Everyone handles stress differently. If you are a person who finds yourself indulging in "stress vices" like too much food or alcohol (I, personally, have been known to over-snack!), try to be mindful and limit those activities during times of stress. If you need additional support, check with your Human Resources department to see if your company has an employee assistance program or can connect you with helpful resources, or contact a local helpline.
Isolating yourself from others: Loneliness has major impacts on health and well-being, and many are at risk for loneliness while social distancing. Make sure you are staying connected with others. Try to reach out to one person a day by phone or video. As a person who lives alone, having regular communication with friends and family has helped me immensely.
Being hard on yourself: When this all started, I felt a little down on myself for not accomplishing all the impressive things I was seeing others do on social media: working out three times a day, reorganizing the entire house, cooking gourmet meals, taking on a new hobby, the list goes on. But then I remembered that we are all in different situations and we all operate differently. And that's OK. Give yourself some grace right now, and take comfort in the fact that we are all doing our best – even if that looks a little different for each of us.
For more ideas on ways you can invest in self-care, I recommend checking out these articles on Forbes, Healthline, and Lavendaire. They provide great tips and tricks on how to keep you focused and motivated. Stay safe, be healthy, and know that you will get through this!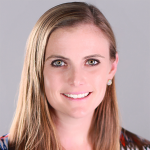 Kerry Burke is a Business Communications Lead for Cigna and serves on the IABC Nashville board of directors as president-elect and Vice President of Social Media.