Mark your calendar for our next professional development luncheon Wednesday, February 20, and join us for an in-depth panel discussion that will energize your 2019 content strategy. This is an event you do not want to miss!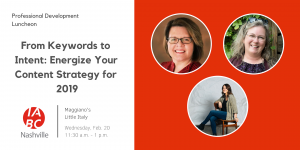 Whether you're building your first strategy or you've been using the same approach for a while, it never hurts to revisit your content strategy plan — to make sure it's innovative, strong, and intentional.
Come hear from Nashville's top content strategists as they share with you their insights on how to maximize your brand's content strategy in the new year! They'll deliver their recent findings on the latest trends, winning tools, and their own stories of how to build a successful strategy that's unique to your brand.
Reserve your spot today for this "must see" event! 
Event schedule:
11:30am-12pm – Networking
12:00pm-1pm – Panel Discussion and lunch
Meet our expert panelists and moderator:
Laura Creekmore
Director of Taxonomy and Content Strategy at Syndigo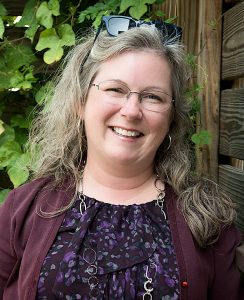 Laura Creekmore has been making tech and content hold hands and play nice for more than 20 years. She is director of taxonomy and content strategy for Syndigo, a platform for suppliers and retailers to organize and share product content. For 10 years, she ran Creek Content, a consultancy focused on communications and content strategy for organizations in complex fields like health care and financial services, and before that led digital media at content marketing firm Hammock Inc. and co-created Smallbusiness.com. She has taught content strategy as an adjunct faculty member at Kent State University.
Laura graduated from Vanderbilt University and has a master's in information science from the University of Tennessee. She is a member of the Rotary Club of Nashville, and a member of the board of directors for the Association of Junior Leagues International, the Oasis Center, and the Tennessee Justice Center. She is past chair of the board of Nashville Cable, and a past president of the Junior League of Nashville. She speaks and presents workshops on content strategy, content marketing, breaking through a cluttered media landscape, connecting with your audience, public speaking, and nonprofit governance issues.
Cynthia Floyd Manley
Director, Content Marketing and Social Engagement at Vanderbilt University Medical Center
Cynthia Floyd Manley directs content marketing and social media strategy at Vanderbilt University Medical Center, one of the largest academic medical centers in the Southeast. She leads an award-winning social media program for the Vanderbilt Health and Monroe Carell Jr. Children's Hospital brands, along with My Southern Health, a consumer health content site.
Manley began her career as a newspaper reporter and editor and is still considers herself a "journalist at heart." She has served in a variety of roles at VUMC, including public information officer, publications editor, and marketing manager, as well as communications officer for Vanderbilt's National Cancer Institute-designated comprehensive cancer center.
She serves as an external advisor to the Mayo Clinic Social Media Network, is a member of SocialMedia.org and SocialMedia.org/Health and is active in the Association of American Medical College's Group on Institutional Advancement.
Jesse Spear
Media & Content Marketing Strategist at redpepper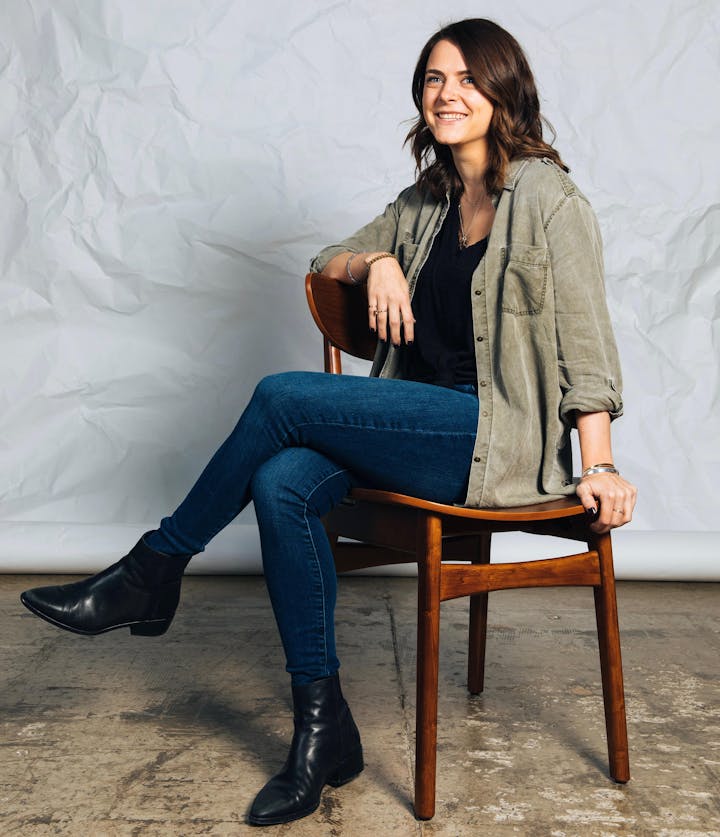 Jesse Spear is the Media & Content Marketing Strategist at redpepper — a creative agency in Germantown known for its work with Cracker Barrel, Slack, and Mars.
After growing up on Long Island, NY, she made her way south, earning her B.A. in both Media Studies and Spanish from the University of Virginia, then receiving her Master's in Marketing from Vanderbilt's Owen Graduate School of Management. During her year at Vanderbilt, she realized her affinity for Nashville, agency life, and BBQ nachos.
At redpepper, she's responsible for the agency's internal content strategy. Jesse has made subject-matter expertise a strong pillar of redpepper's content portfolio. Her efforts have led to a 219% increase in blog traffic, the implementation of a unique content calendar structure, and fine-tuned targeting tactics. As a newcomer to Nashville's agency scene, she offers a fresh perspective on the importance of a creative, cross-platform content strategy.
Moderator Sarah "Birdie" Loeffler
Content Strategist at NDC, Inc.
IABC Nashville President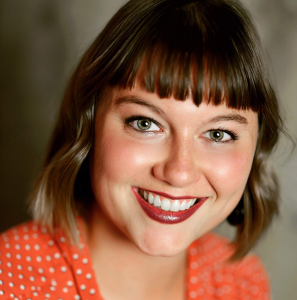 Sarah "Birdie" Loeffler is the Content Strategist at NDC, Inc. and has been a dedicated member of IABC since 2014. In 2018, she received the President's Award for exceptional contributions by a chapter member to the health and growth of the chapter.
Birdie has a technical writing background and specializes in translating technical information into easily accessible and creative language for marketing purposes. At NDC, she oversees the marketing content strategy to provide a personalized experience between the NDC brand and their customers.
Reserve your spot today for this "must see" event!