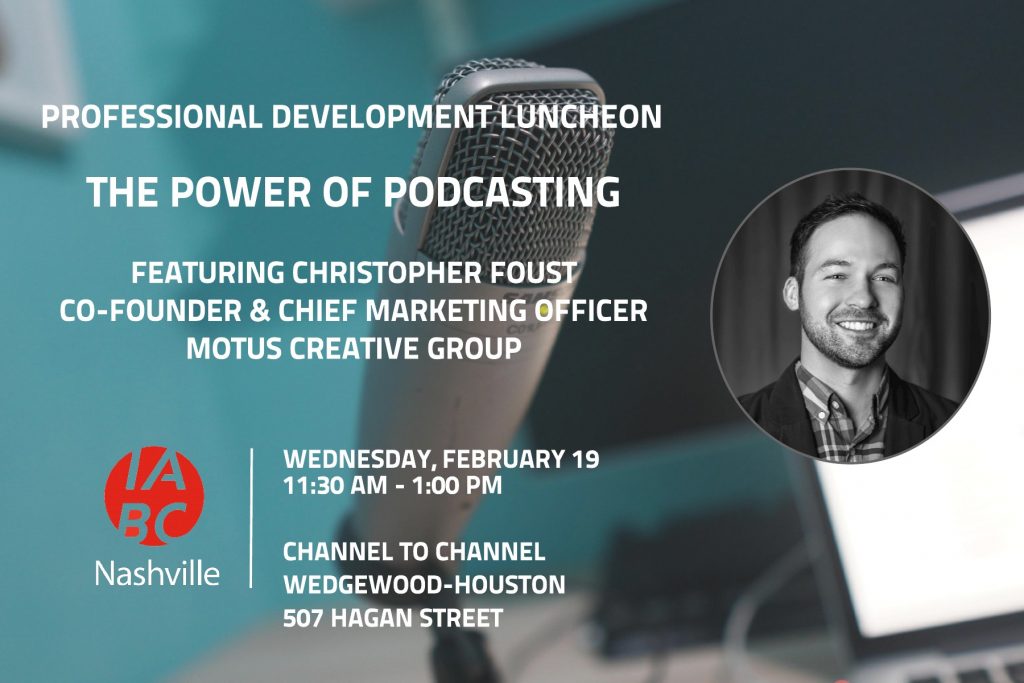 Get into the heads of your audience, literally! Podcasting has become one of the most effective ways to foster brand loyalty with existing customers and build relationships with new ones. Learn how to harness the power of one of the most effective content marketing tools in existence.
Join us Wednesday, February 19 as Christopher Foust guides us through the strategy, tactics and technology of podcasting. If your 2020 marketing goals include trying new platforms or finding creative ways to reach your audiences, this presentation will jump-start your path to achieving those goals.
Event Information
11:30 a.m. – Noon: Networking
Noon – 1 p.m.: Lunch and presentation
Location
Channel to Channel inside the Packaging Plant
Wedgewood-Houston
507 Hagan Street, Suite A
Nashville, Tennessee 37203
(Parking available in the gravel lot across the street)
Speaker
Christopher J. Foust
Chief Marketing Officer & Co-Founder
Motus Creative Group
About our speaker: Christopher J. Foust
Christopher J. Foust is the co-founder of Motus Creative Group, a podcast and marketing agency working with some of the largest brands in healthcare, entertainment, retail, and politics. He brings over 17 years of entrepreneurial and marketing experience, assisting organizations of all sizes connect with their ideal clients, mobilize their employees as advocates and do more good in the world through effective branding.
Foust utilizes a diverse background as a touring musician and competitive boxer to construct a fresh outlook and approach to branding and marketing, where innovation and creativity are the most effective forces in achieving success.
Motus Creative Group harnesses the power of podcasting and content marketing to help their partners define their brand message in the marketplace, solidify their authority in their respective industries, and use the podcast platform to increase employee engagement.
Reserve your spot for this informative event. See you there.