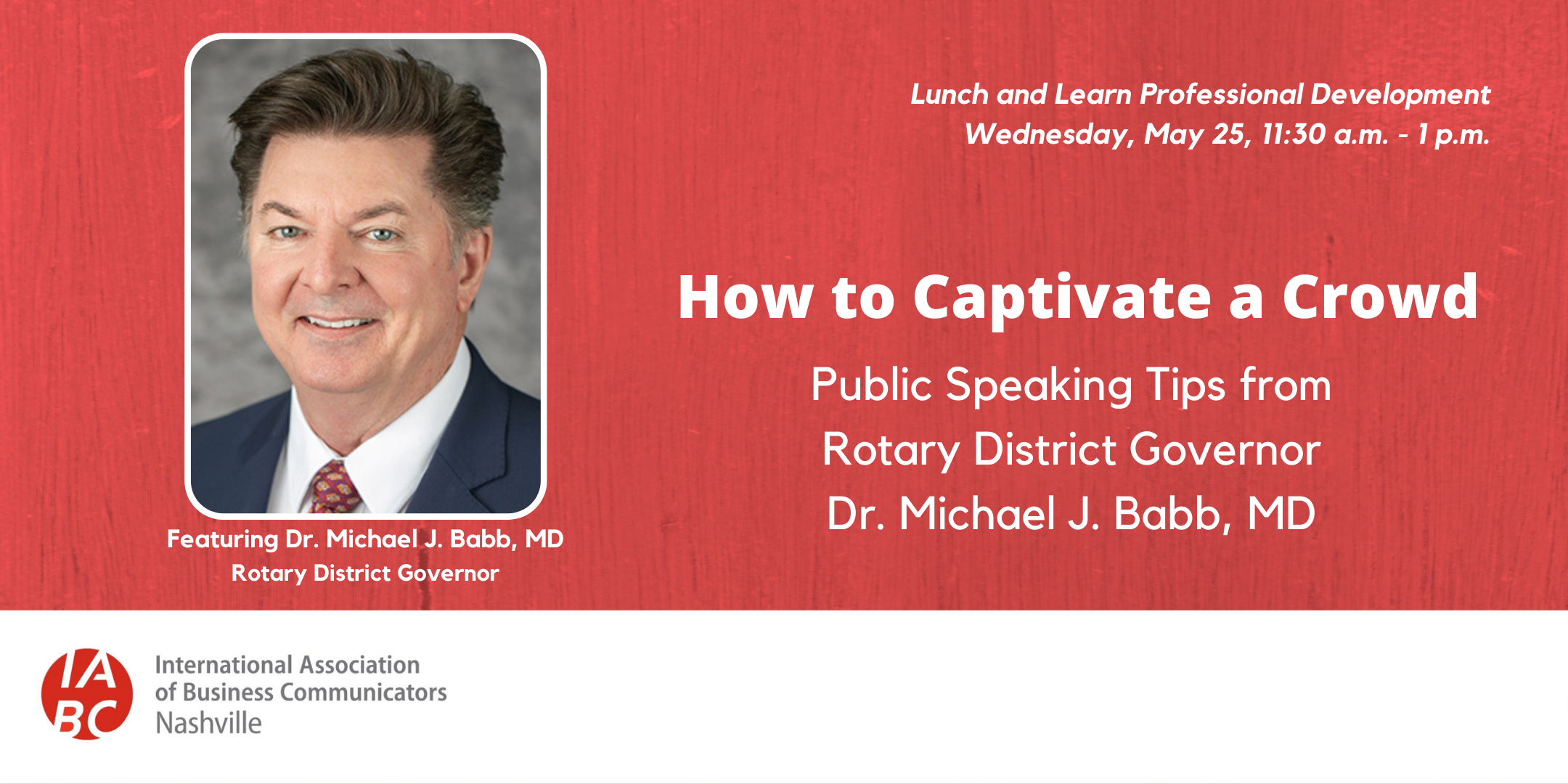 We're back in person for our professional development events—come join us!
Join us as in person as we host Dr. Michael J. Babb, MD, as our May professional development guest speaker! Dr. Babb is the Rotary District Governor for District 6760, which serves 58 clubs and 3,200+ community leaders throughout Middle and West Tennessee. Dr. Babb has ample experience presenting to groups ranging from ten people to 500+. When preparing and delivering engaging speeches, he's got a few tricks up his sleeve. Not to mention he's also a songwriter–which means he's up to the challenge of communicating a message with just a few words.
You'll learn:
The basics of preparing a speech
How to sharpen your presentation skills for both virtual and in-person events
Tips and tricks for keeping your audience engaged throughout your whole presentation
About Dr. Michael J. Babb, MD:
Dr. Michael J. Babb, MD, lives in Nashville, Tennessee, and is a Board-Certified Family Physician practicing hospital medicine at Williamson Medical Center from 2011-present. Before that, he practiced "cradle to grave" family medicine in Cushing, Oklahoma, from delivering babies to going to nursing homes and making house call visits along with his office, hospital, and surgical practice. He has worked in the COVID-19 unit since March 2020. His collegiate degrees include a Bachelor of Science in Chemistry from Phillips University and a Medical Doctor from the University of Oklahoma.
Dr. Babb is married to Tamie, an OB-GYN physician at Hendersonville Medical Center. They blended their families and have eight children and 16 grandchildren.
Dr. Babb's community and world service include being a Rotarian since 1985. He has held multiple club and district offices culminating in being Rotary International District 6760 Governor. District 6760 is comprised of 58 Rotary Clubs in central and western Tennessee with over 3,200 members.
He is a singer/songwriter who owns Magic Yellow Bird Publishing and has songs streaming on the internet. Dr. Babb has had songs in the top 40 on the country charts in Europe.
Dr. Babb has a passion for serving others in whatever capacity he is occupying at that moment, whether it be personal friend, public speaking, medicine, Rotary, music or family.
This will be an interactive discussion with plenty of time for Q&A. To submit a question in advance, please send us an email.
Details:
Wednesday, May 25, 2022
11:30 a.m. – 1:00 p.m. CDT
Location: Nashville Entrepreneur Center
41 Peabody St.
Nashville, TN 37210
Tickets
IABC Members: $35
General Admission (for non-members): $45
Students: $30
Note: We kindly ask that all attendees be vaccinated against COVID-19 or receive a negative COVID-19 test within 48 hours of the event. If you aren't feeling well, please adhere to CDC guidance and stay at home.